ROUND ROBIN 2023 Lona Boswell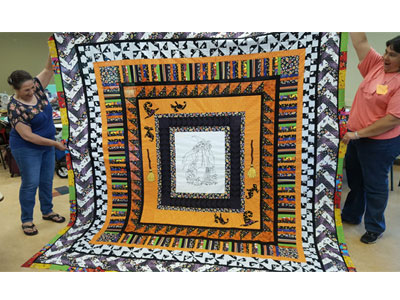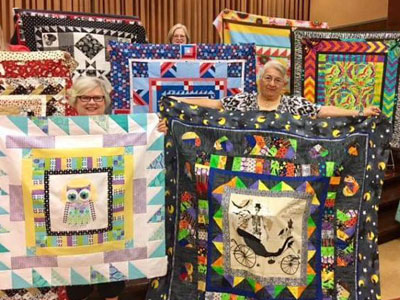 The purpose/goal of this activity is two-fold: have fun and hopefully learn a new technique or idea you might want to use on a future quilt border. When you sign up, you will draw a tile (1-12) to see which technique to use. Start with any size block, rectangle or panel. You don't have to go around all four sides—–your choice. Each time you complete your task, you'll draw for another one. You will be the only one working on your piece! We will start in March and end in November. If you complete 5 techniques, you will be eligible for the drawing of a quilt related item. You will NOT repeat the same technique.
1. Flying geese
2. Half square triangles
3. Four patch (checkerboard)
4. Small dogtooth or beads
5. Stripe
6. Paper piece
7. Accordion pleats
8. Diamonds
9. Off-set
10. Braid
11. Piano keys
12. Your choice
*** If you need some instruction or help, go to the Saturday free sew at the Upland YMCA. Questions? Call Lona ( 909) 985-1439

This club was formed to challenge you to finish those quilts that
have been hanging around your sewing room waiting for you to get around to finishing them. Beth Prentiss and her helpers would like you to join them and share the satisfaction of completing five (5) projects during the year and receive five (5) chances to win a prize at our February 24, 2023 Business Meeting. For questions, contact Beth at beth.prentiss@hotmail.com.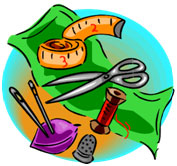 Looking for help on your newest project? Join the group on the First Saturday of the month. The sewing group meets at the Upland YMCA AT 1150 E. Foothill Blvd, Upland Ca 91786 909-946-6120 Space availability I on a first come, first serve basis. You must bring your own supplies. Any questions, contact Judy Cagley at trekker41@aol.com

The Charity committee has created some wonderful kits for making charity quilts. They include all the fabric and instruction for completing a quilt. Complete a quilt for charity and receive your very own Charity Chicks Pin. Don't forget the charity Chicks are often at the Saturday Sew to spread the cheer. They also have the Accuquilt Cutters and dies for you to use on your projects.   Contact Sue Coes at 909-636-6655 or Karen Rosser at 909-900-8591 if you have any questions.