Programs, Lectures and Workshops
March 23, 2023
Charity Sew
We have a lot of donated fabrics to turn into wonderful quilts for our community. Come Join us for the FUN.
April 27, 2023
Applique + Piecing = New Possibilities
TEACHER – SHEILA FRAMPTON COOPER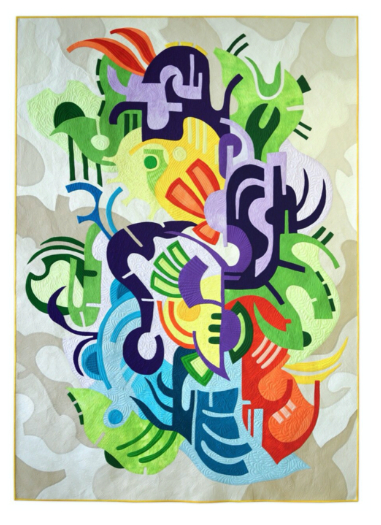 In this workshop, students will compose a small design, create a full-scale pattern on freezer paper, and assemble the forms using a technique called Appli-piecing, originally developed by Caryl Bryer Fallert-Gentry.
By using this technique, you can bring almost any complex abstract idea into quilt form. You will retrain a clean, graphic look and when complete, you will have a quilt top pieced together with a l/4″ seam allowance.
Kit Fee: $25
May 25, 2023
"Identity Quilt" Raw Edge Applique
Self –Portrait Quilt: (Workshop 6 hours)
TEACHER KENA TANGI DORSEY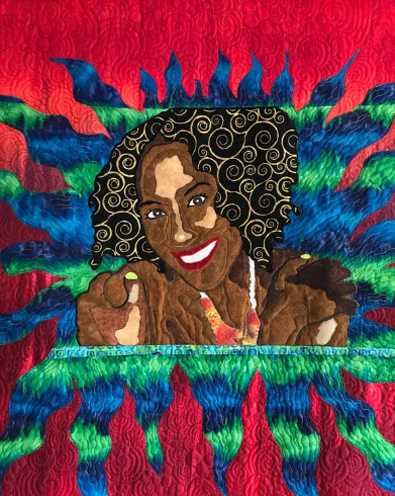 Starting with an image from a selfie or photo of yourself (or it could be any portrait), students will learn how to turn a picture into a template and create a raw-edge applique self-portrait block or quilt-top. I'll share some of my must-have materials used for this method of applique and demonstrate a technique that I often use. We will choose a photo, create a template and patter, select fabric options for skin tones, clothing and backgrounds. Next, we'll cut out the pattern pieces, fusing it to the background fabric and add some colorful borders. At the end of class, students will have a completed appliqued portrait block to finish off as either a mini quilt, or continue to build upon it after the workshop is complete.
kena@kenaquiltstudio.com
June 22, 2023
Mother Hubbards Cupboard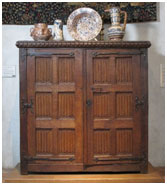 If you want to have a table to display and sell your items. Contact Cassie Kindig at cassys@aol.com. Tables are $20.00, join a friend and share the cost.
July 27, 2023
Fabulous Faces Freddy-Style
TEACHER – JEAN IMPEY

This workshop uses both collage and design techniques. Freddy and I collaborate on these fabulous faces. Our process requires a glue stick and basic design principles. Freddy and I have made hundreds of these. We both create our own faces and I quilt and finish all of my own as well as Freddy's using my own techniques for quilting:  "Pencil Quilting" and "Sketchy Quilting." Have fun with this workshop, learn about composing faces with a minimum of fuss and fabric, then learn my special quilting techniques for completing your design, quilting and binding.
August 24, 2023
TEACHER – Laura Green

Laura's Make it Modern
The MQG: What is a Modern Quilt? Modern quilts are primarily functional and
inspired by modern design. Modern quilters work in different styles and define modern
quilting in many ways, but several characteristics often appear which may help identify a
modern quilt. These include, but are not limited to:
1. the use of bold colors and prints
2. high contrast and graphic areas of solid color
3. improvisational piecing
4. Minimalism
5. expansive negative space
6. alternative grid work
7. 'Modern traditionalism'
8. the updating of classic quilt designs
September 28, 2023
FOUNDATION PIECING WITH SILK
TEACHER – JULIA McLEOD

This workshop takes a deeper dive into two foundation piecing designs, Flying Geese and Grandmother's Fan. Tame this beautiful material by using a fabric foundation. Piecing on to a muslin foundation brings strength and stability –
and accuracy – to your silk quilts. There is a required $10 kit of pre-printed foundation, Benartex's Foundation by the Yard. A comprehensive supply list will help you get set up with everything you need. Additionally, if you don't have a silk stash, Silk Kits can be provided for this class. Please enquire for details
October 26, 2023
Textured Pixel Quilts
TEACHER – RAMI KIM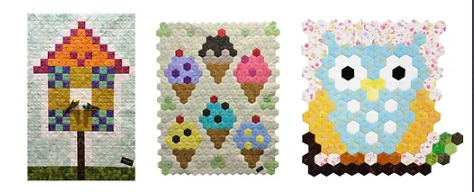 Create…and pixelate! It's simple – learn the most innovative and easiest way to craft pixel quilts with 3-D textures.
Piece by piece, you can bring fun designs to life. With Rami's folding technique, you do not need to add backing, batting, or binding. All of these are included in the folded squares and hexagons, your pixels or the quilts.
November 16, 2023
Round About

We will be having our usual "Round About" where we will learn new tips, techniques and patterns.
The annual 2023 Holiday Party will be Thursday, December 7, 2023.
Dinner will be served at 6:00 PM at Panda Inn.
3223 E Centerlake Drive, Ontario, CA 91761
We are planning on having lots of goodies and baskets to win! 
Until the menu is confirmed, the cost of dinner hasn't been determined.  
So far, I have four people confirmed to assist with the festivities.  I could really use a few more helpers.  Please send a text to Marie Lehr at 909-851-0497, if you are interested.